Pandemic paradigm shift offers opportunity for progress
April 27, 2021
| Posted by
The unprecedented experience of the pandemic is having a major impact on Canadians' social values and political perspectives. The stark evidence of inequality when it comes to both the risk of exposure and the medical consequences of contracting COVID-19, has amplified the increasingly widespread and publicly acknowledged view that Canadian society and its institutions are deeply unequal and systemically racist.
Against this background there are multiple signs of a paradigm shift in Canadian public opinion, marked by increased public support for progressive policies and initiatives across a wide range of issues. For example, a November 2020 poll found 80% of Ontarians endorsed increased funding for long-term care facilities, and 69% endorsed making "the whole system public and non-profit 1. We are also seeing increased support for higher wages and new taxes on corporations and the wealthy. In a September 2020 national poll two thirds (65%) agreed that "major changes" are necessary to deal with the structural and economic problems exposed by the pandemic 2. Recently, Stratcom conducted a national poll fielded from March 17 to April 13, 2021 by IVR to landline and mobile phones (RDD) 3.
---
Here's a summary of our key findings: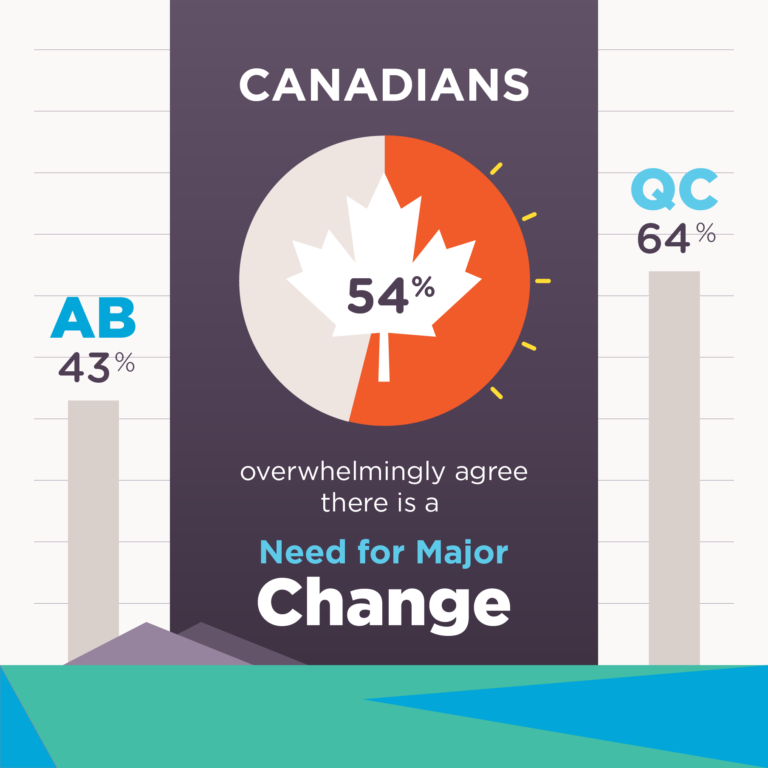 Canadians want major changes to social and economic policy
A majority, 53%, of Canadians believe "the pandemic has revealed big problems in our society" and we "need to make major changes in the economy and social policies" — 2:1 in favour. Sentiment is highest in Quebec at 62% and lowest in Alberta at 43%,though still leading among all choices.
It's clear — Canadians do not want to go back to the pre-pandemic status quo.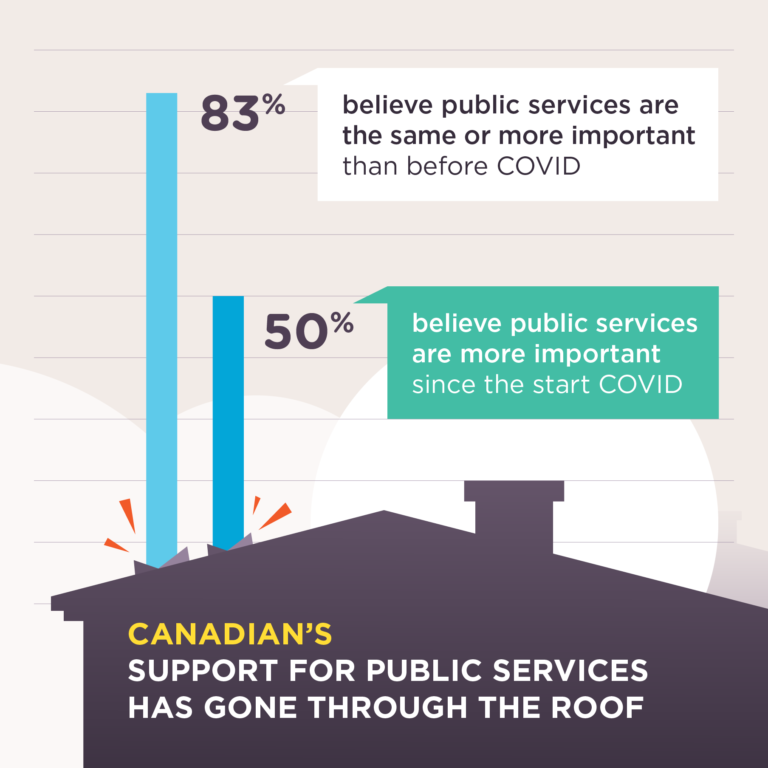 Support for public services has gone through the roof
Fully 50% of Canadians believe public services are more important since the start COVID-19 and 83% believe public services are equally or more important than before COVID-19.
Broad support for mandated paid sick days, growing concern over inequality
83% support "that governments should make all employers provide paid sick days for all employees" — the support is pervasive across regions, genders, ages and party lines.
75% concerned that COVID-19 has "revealed, and even increased, income inequality" — this sentiment is expressed across all metrics, including 63% of Conservative Party supporters concerned about growing inequality.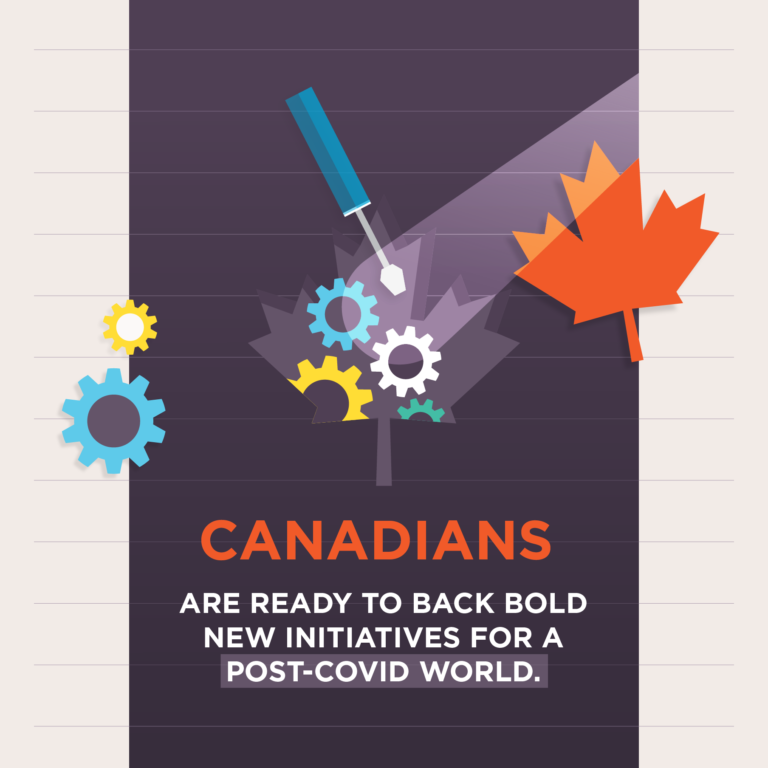 While deficit spending questions remain, most Canadians support new mechanisms to pay for change
74% of Canadians are either very concerned or somewhat concerned about "Canada's increased deficit".
61% support the idea of a corporate pandemic profits tax to "help offset the costs" — Conservative Party supporters are split on this proposed new tax (46% support, 48% oppose).
---
Majority support for "major changes" combined with support for public services reinforces the view that there is a growing appetite for systemic change. This paradigm shift opens the doors to advance genuine change associated with income distribution, social policy, health care, racial justice, gender equity and action on climate change.
Although there are differences based on political party preferences, concern over income inequality, support for major change and support for a corporate pandemic profits tax are all surprisingly high among Conservative voters. This suggests we may be witnessing a significant shift to the left across the whole political spectrum – one that is pulling much of the right with it.
A Pivotal Moment
The intersection of the pandemic with the broader movement for equity, environmental, social and racial justice has precipitated a social and political conjuncture which has opened up big opportunities for progressive forces. Now is an opening to broaden and solidify public support and mobilize that support to win issue-based and political campaigns on an unprecedented scale — to deliver a program for major change in Canadian society.
But it would be naïve to ignore the fact that public opinion may be at a pivotal point, where support for progressive change can disappear as quickly as it appeared. It is possible that as the 'end' of the pandemic approaches public concern over the deficit will lend momentum to the message of austerity, which is already gaining steam.
However, our poll results would seem to be showing a pathway around the austerity option. High support for a new corporate tax suggests there may be a unique opportunity to push a progressive tax agenda. Along these lines we can take some inspiration from the Biden administration, rolling out a relatively aggressive spending program combined with plans to raise corporate taxes and possibly increase the capital gains tax. In any case the challenge for progressive forces will be to address both sides of the fiscal equation, effectively advancing a progressive tax agenda that will solidify broad-based and enthusiastic support for major progressive changes in Canadian society
Let research lead the way
Though we cannot predict the pandemic's duration or longer-term impacts, we can map the dramatic changes that are currently taking place in Canadians' values and opinions, as well as their understanding of the available political and policy solutions. Public opinion research has an important role to play right now – in guiding policy development, deepening audience understanding and informing campaign strategy and messaging. With these poll results in hand, along with many others we conduct for clients, Stratcom is eager to assist our progressive clients to deepen your understanding of the changing landscape of public opinion, the priorities of your target audience and the historic opportunities that the post pandemic period offers your movement(s).
---
[1] Fielded by Stratcom for CUPE Ontario. Ontario online survey of 2507n, fielded Nov. 27-Dec.1, 2020.
[2] Fielded by Abacus for Broadbent Institute. National online survey of 2000n fielded Sept. 4 to 9, 2020.
[3] The sample of 6,537 Canadians was statistically weighted down to a proportional sample of 3,096 and matches the nested composition of Canada by gender, age and region as per most recently available census data. Margin of error = +/- 1.8% 19 times out of 20.
Register to hear from our team.
Stratcom Newsletter Horizontal