Text messaging is fast becoming a key tool for a wide variety of engagement activity. From signing petitions, to giving money, to getting out the vote, SMS, Facebook Messenger and other forms of text messaging are reaching audiences you can't reach as effectively in other ways. With read rates often hitting 98% in 2 minutes, text message penetrates the way no other channel can.
Stratcom is proud to partner with Prompt.io, a next generation text messaging platform that allows you to create, automate, and personalize conversations that deepen relationships, collect data, and lead to action.
Vastly superior to earlier texting platforms such as Hustle, Prompt.io is a highly customizable, feature-rich platform that allows users to launch text campaigns that are automated (A2P), peer-to-peer (P2P), or a hybrid of the two. You can also easily set up autoreplies based on keywords to streamline the supporter journey. Prompt.io's other unique offerings include "Instant Apps", microsites easily built within the Prompt.io platform to push respondents from text to online, and integrations with a wide range of CRMs and applications, such as NationBuilder, Blackbaud, Salesforce, and Google Maps, for seamless data management and other cutting-edge functionalities.
Register to hear from our team.
Stratcom Newsletter Horizontal

Create or segment a list of supporters you'd like to engage for your text campaign. Small or no list? Rent our MobileReach list or ask us about online lead generation to generate mobile numbers you can text.

We can work with you to craft a text script that is succinct, to the point, engaging, and complies with all relevant regulations.

After all campaign details have been confirmed, we will set up and launch the campaign (and broadcast the first text, if applicable).

Manage follow-up conversations
As your supporters start responding to the initial text, your staff/volunteers (or our agents) will respond to and engage in one-on-one conversations for deeper engagement.
Our text messaging services
Don't have time or capacity to text your supporters? Our team of experienced texting agents are trained in both engagement and fundraising text campaigns to text on your behalf.
Just need to send a one-off text broadcast for rapid response or informational purposes? Prompt.io can fully support a simple text broadcast program.
Integrate your Facebook page with Prompt.io to respond to and engage with supporters via Facebook Messenger directly on the platform.

Election campaigns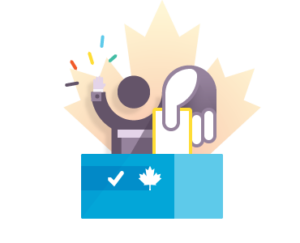 Identify supporters
Invite them to events
Recruit volunteers
Get Out the Vote (GOTV)

Labour unions

Advocacy organizations
Prompt.io is the ideal merger between a text based platform and a data gathering/analytics platform. With Prompt.io we have an endless capacity to communicate longer or more complex updates, build data collection tools, and create actionable events. Prompt.io has all the tools we need.
Molly Kraft
Labour Relations Officer,
Provincial Organizing
Ontario Nurses' Association